Life Care Plans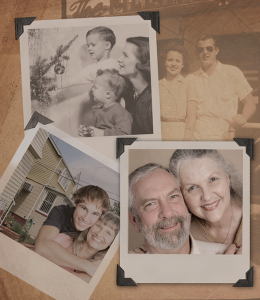 Whether your loved one is a parent, spouse or sibling … whether you live around the corner, in the next town, or a thousand miles away … dealing with an aging family member can create anxiety, guilt, fear and many other feelings.
The experienced, supportive and knowledgeable staff at Life Planning Law Firm, P.A. realize that most people are caught up in today's hectic pace of living and cannot spend endless hours researching answers to the questions surrounding care for an aging loved one.
Our job at Life Planning Law Firm, P.A. is to provide the answers you need, relieve any uncomfortable feelings, and ultimately offer peace of mind.
To ensure the success of your LIFE CARE PLAN, we must bring together the entire family to better understand where your loved one is within the "Continuum of Care" analysis. We then help you make the determination that is at the very heart of LIFE CARE PLANNING: Should your family member age at home with assistance or is it time to find an appropriate alternative residence, and if so, what steps need to be taken to accomplish those goals?

Can You Answer These Questions?
What are the current diagnoses, prognoses and medical needs of my aging loved one?
Is my loved one safe and well cared for?
When is it appropriate to get involved with my loved one's care?
How do I find good care?
What is the estimated cost for my loved one's current and future needs?
How will that care be paid for?
At what point do we need to consider a move from home to a more secure environment?
What government and community resources may help pay for that care?
How Does Life Care Planning Work?
Life Care Planning is a practical approach to filling your family's current and future needs in a timely fashion. With a Life Care Plan, you can avoid frantic action should a family crisis arise. The process incorporates legal planning techniques and changing physical, psychological and financial needs.
Life Planning Law Firm, P.A. works with you to design a customized legal plan that serves as a road map to help you meet the inevitable challenges of caring for an aging family member, while taking into consideration the legal needs of all other family members involved.
Our Elder Care Coordinator assesses your situation, researches possible solutions and answers your questions about the type, amount and quality of care that is necessary. Then we explore all available sources of financial help.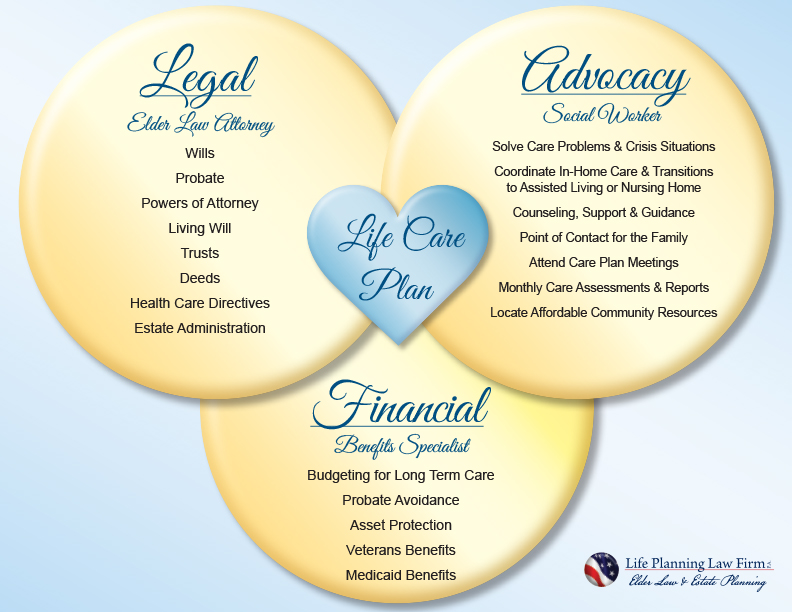 Life Care Planning Goals
The Three Principal Goals of Your Customized LIFE CARE PLAN Include:
Appropriate Care: Whether at home or in a residential facility, ensuring that your loved one receives the care that best fits their current and future needs is the most important of all goals as it goes to the very heart of your loved one's long-term quality of life.
Asset Protection Solutions: Finding the best solutions to the asset protection problem that is created by the high cost of quality long-term care. Helping you find sources to pay for the quality long-term care by working through the confusing maze of choices and programs to ensure that all of your loved one's needs are met throughout his or her lifetime.
Peace of Mind: Providing the entire family with the peace of mind that comes from knowing that their loved one is well cared for and safe.
In order to successfully achieve the previous goals, we at Life Planning Law Firm, P.A., strive to reduce the financial burden of the high cost of care through a variety of outlets and research. Among the activities that we conduct as a part of this process are:
Locating and affiliating with community agencies that offer assistance in a variety of areas
Determining what government benefits may be available to your loved one and working with you to obtain those benefits—from application through qualification
Continued monitoring of the LIFE CARE PLAN to make sure all legal documents are current and all assets are protected
At Life Planning Law Firm, P.A. your LIFE CARE PLAN is customized to fit your family's specific needs and desires. It includes all necessary legal documents, consultations and other services, providing you with peace of mind today, tomorrow and for a lifetime.
A Life Care Plan Benefits the Whole Family
A Life Care Plan is appropriate for:
Elderly individuals who are dealing with the effects of aging, chronic illnesses like Parkinson's disease, Alzheimer's disease, stroke or dementia, or disability due to accident or illness

Cognitively, emotionally or developmentally disabled individuals of any age

Individuals of any age who have been permanently disabled due to accident or illness
The elderly or disabled loved one gets the right care sooner, as much independence as possible for as long as possible, and the ability to age with dignity. Families get help finding the right care and services, guidance with legal, health care and long-term care decisions as the elder's condition progresses, and security because the spouse and dependents are provided for.
Whether you live across the street or across the country, a Life Care Plan offers welcome reassurance that your loved one will enjoy the best possible quality of life until the end of life.
Your Advocate for Quality Care
What would you do if you discovered that the nursing home wasn't bathing your elderly parent on a regular basis? What would you do if you discovered other lapses in care or outright neglect?
Many families are terrified that something bad will happen to their loved ones in the nursing home and if it does, they won't know what to do about it.
Don't Settle for Substandard Care
With a Life Care Plan, you can relax and let us be your advocate for high quality care. No matter what your challenge, the experts at Life Planning Law Firm, P.A. work on your behalf to resolve care issues, manage transitions to more appropriate care and stand up for you when you need it. We stay by your side working to protect the interests of your loved one for the rest of his or her life.