FAMILIES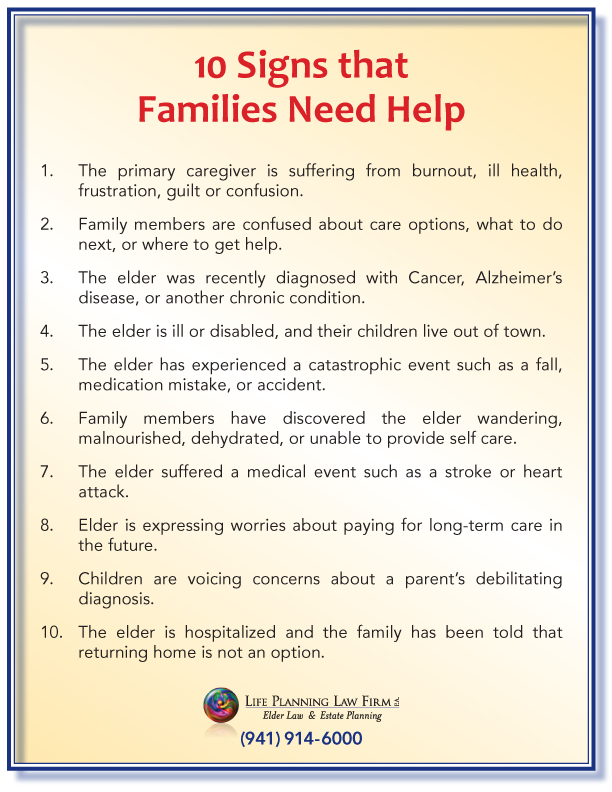 Aging and Long Term Care can raise tough questions…
Do YOU have the Answers?  We do!
It's tempting to rely on friends, family, the local senior advisor or the Internet to help you make decisions as you and your loved ones age or become ill. Why risk your loved one's quality of life with someone who may not be qualified to protect it? The Life Planning Law Firm can empower you to make the right decisions. We can help you:
Develop an estate plan
Help a loved one locate and pay for long-term care without bankrupting the family
Resolve a dispute involving a Will, Trust or Guardianship
Preserve family assets, qualify for Medicaid and other Public Benefits
Identify and coordinate the care and community resources that are right for your loved one and guide you through the entire application process
Help ensure that quality of life is the best it can be for a loved one in a Long-Term Care facility
Get Asset Preservation, Public Benefits qualification and Care Coordination services together in one convenient package designed to enhance the quality of life for your loved one
You may get just one chance to do it right. Why risk making the wrong move? Work with the experts at the Life Planning Law Firm. It all adds up to a better night's sleep for you — and those counting on you to make the right decisions. For more information or to schedule a free consultation, call (941) 914-6000.
We Serve Florida's Families on the West Coast
ServingManateeSarasotaCharlotte
We service the following counties in Florida as well as throughout the United States
Manatee County: Bradenton, Lakewood Ranch, Longboat Key, Lido Key, Anna Maria
Sarasota County: Sarasota, Siesta Key, Osprey, Nokomis, North Port, Venice, South Venice
Charlotte County: Punta Gorda, Port Charlotte, Boca Grande, Manasota Key, Englewood